Evil-Echo Empire Update
In the first group of links below on clear and present danger, we see how Trump is waging direct attacks on the norms & institutions of our democratic society, which should he succeed in his nefarious mission, would greatly diminish us to where our free nation might never be the same. The threat is very real since his GOP political allies & echo are complicit in the mission, with his doting Trumpeter base having bought in. That's the base of support he gains power from for his evil intentions.  Topics like what we see in the first group of link headings provide critically important warnings to our nation, such as Trump a threat to democracy, freak show masks the truth, xenophobia that got him elected, Trump-numb (& dumb), how democracies die, Trump's how democracies die, banana republic, reality check/new normal & turning the DOJ into something it shouldn't be, his own personal goon squad!  And since he can't defend himself on all those peculiar contacts his campaign had with the Russians, his fallback line is to constantly say no collusion & always blame any Russian collusion on Hillary!  I could try to blame the Cleveland Browns inability to win any football games on the Pittsburgh Steelers, but that argument doesn't make any sense.  Neither does playing the Hillary card.  Most of the public is completely unaware of the autocratic dangers to our longstanding democracy, but the slippery slope to fascism can begin with that first step, which may be playing out before us in the person of Trump!  I keep repeating over & over, don't think it could never happen here!  Well, it could happen here, which is why I implore people to share this info, or simply direct them to The Voracs.
In the next group on attacking the free press, it plays into Trump's impulsive authoritarian instincts, in that he wants the ability to bring lawsuits against the media.  He envies the way leaders in Russia & North Korea, or wherever thuggish totalitarian regimes exist, can dictate what is reported to their populations from state-run media sources.  Fox has demonstrated through their messaging they're willing to be the prez's personal state-media megaphone in America.  Make no mistake, Trump's criticism of our libel laws is actually an underhanded way to intimidate a free press.  For a person with a background of treating lawsuits as routinely as the rest of us brush our teeth in the morning, he seeks the power to sue the media for anything they say he doesn't like.  An American President even just won a credible award as the world's top oppressor of the press….think about that!!! The world is full of iron-fisted regimes providing stiff competition for that award, but Trump topped them all. It's all part of his overall attack on the First Amendment, which any wanna-be dictator would want to remove such valued rights of the people. In conjunction with his attacks on the courts & intelligence agencies in his desire to usurp personal control over independent institutions, it just highlights the importance of reining in this threat. There's also the not-so-small matter that his campaign may have illegally compromised our electoral process, plus obstruct the investigations looking into it, so taken as a whole this presidency appears to be engaged in an all-out assault on our constitutional democracy. Our Bill of Rights, freedoms & system of democracy cannot be sold out for any shortsighted political ideology! I don't care if by some miracle Trump were to turn into a great president, the rule of law is infinitely more important than any one leader, so if we do find proof of criminal conduct, we'd have no other choice but to act accordingly!
Click on the link Trump's threat to democracy, where we see these important revelations:
Two political scientists specializing in how democracies decay and die have compiled four warning signs to determine if a political leader is a dangerous authoritarian:

1. The leader shows only a weak commitment to democratic rules. 2. He or she denies the legitimacy of opponents. 3. He or she tolerates violence. 4. He or she shows some willingness to curb civil liberties or the media.

"A politician who meets even one of these criteria is cause for concern," Steven Levitsky and Daniel Ziblatt, both professors at Harvard, write in their important new book, "How Democracies Die," which will be released next week. "With the exception of Richard Nixon, no major-party presidential candidate met even one of these four criteria over the last century," they say, which sounds reassuring. Unfortunately, they have one update: "Donald Trump met them all."
In the article trump-named-top-global-press-oppressor, we see this award Trump just won in this sentence below, a stunning achievement considering no American President should ever be in the running for winning this:
The Committee to Protect Journalists named President Trump as the winner of its "Overall Achievement in Undermining Global Press Freedom" award in its "Press Oppressors" awards Monday.
The other link groups below expose derangement beyond reason, featuring Steve Bannon, Steve Miller & Fox fake-news. I'm wondering to myself if Bannon's break from Trump frees him up to cooperate with Mueller, assuming he knows quite a bit. He is to be interviewed by Congress. Bannon even mentioned about the money laundering, & he made the cryptic comment about Trump's presidency being over the day he left his White House job. With his influence now diminished, I'll say his nationalistic sentiments do have a place in the right context, but it's a very good thing he won't be able to effectively prop up some of the most radicalized far-right political candidates our country has ever seen.  In Rubin's article on with-bannon-gone-we-can-see-trumpism-for-what-it-really-is, it contains these two paragraphs:
In any event, now that Bannon is gone from the scene, we can dispense with the idea that Trump ever had or needed a philosophy. Trump has long been about Trump, a cult of personality with ample helpings of racism, xenophobia, protectionism and nativism. His only "genius" is in manipulating and conning those looking to justify grievances (usually based on race). His specialty is in stoking white males' anger over loss of primacy in society. Trump — as we plainly saw in that jumbled immigration session — believes in nothing more than winning, and then garnering praise from the people he has fooled (e.g. the voters who thought he wasn't going to cut taxes for the rich).

Because Trump is incapable and uninterested in matters of substance, the plutocratic class that backed him has had a field day. (He'll sell the masses; we'll get the big tax cuts!) They and the evangelical power-seekers have been able to call the tune on taxes, abortion, gay rights, court appointees, deregulation, etc. What we have is a caricature of the far-right agenda that originally drove the party into the ditch with working-class voters. (Mitt Romney is a raging economic populist compared with this crowd.)
Inside the link the-depressing-lesson-of-jake-tapper-v-stephen-miller, it points out a network like CNN of whom Trump constantly calls fake news, they do occasionally make mistakes in their reporting, from which they in good faith correct the record.  But of Trump's verifiable lies now surpassing the astounding number of 2000 after just one year in office, "the White House has a nearly nonexistent rate of owning up to mistakes."  That should provide guidance to all of us who is really fake & who we can trust a lot more to tell us the truth.  And by extension that makes Fox & the entire echo fake news, since in cahoots with Trump they keep repeating each other's lies.  If the prez really wants to weaken the libel laws, it could open him up personally for hundreds of lawsuits from the multitudes he routinely bullies & insults.
In the loony cesspool of buffoonery known as Fox News, one of the articles in the crazy fox group has this sentiment in one of the articles, that for national security, Trump would be better off watching cartoons in the morning instead of Fox.  There are some cerebral conservative media sources out there, but they produce deep-thinking contemplation & genuinely good ideas as opposed to surface visceral anger, so they're just not as entertaining.  So instead we have much of the conservative audience tuned into Fox, polluting people's minds & dumbing them down.  As Fox & the rest of the echo keep destroying conservative ideology, they are also destroying the GOP, & if left to their own devices could end up destroying our democracy.  People can dismiss my warnings all they want, but with Fox's full backing Trump becomes a legitimate danger.  These days, clear and present danger is much more than just a phrase or slogan.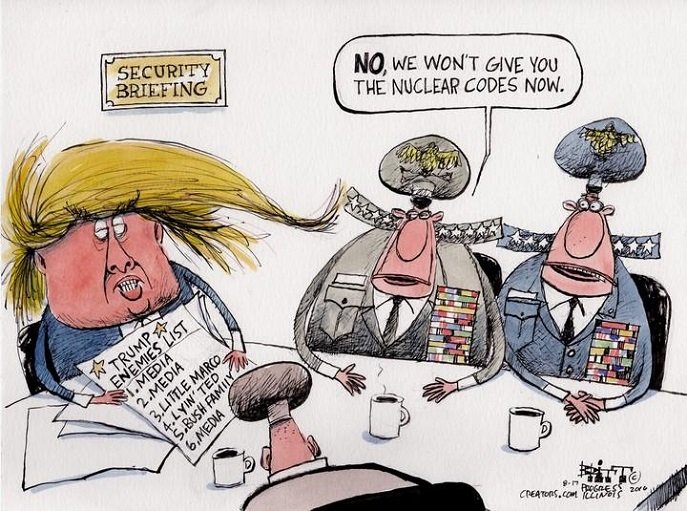 Views from the far-left….
Since the echo-crowd loves conspiracy theories so much, I invite them to check out the Kos. This leftist publication isn't nearly as outrageous or radical as what is routinely concocted in their far-right echo, but it does go out on a limb by embellishing their stories more so than the mainstream media. But some of their wild speculation is also what makes reading these so interesting. The challenge is to try & separate the truth from the conspiracies. I do know there are plenty of facts in here despite the exaggerations. So as far as a credible source, we can treat this with a grain of salt, but it sure beats the nonsense coming out from the rightwing echo. I invite the echo-crowd to check out these articles, contrast Kos' opinions to what they hear from the echo, then make up their own minds. Might I chime in the truth does lie somewhere in the middle.